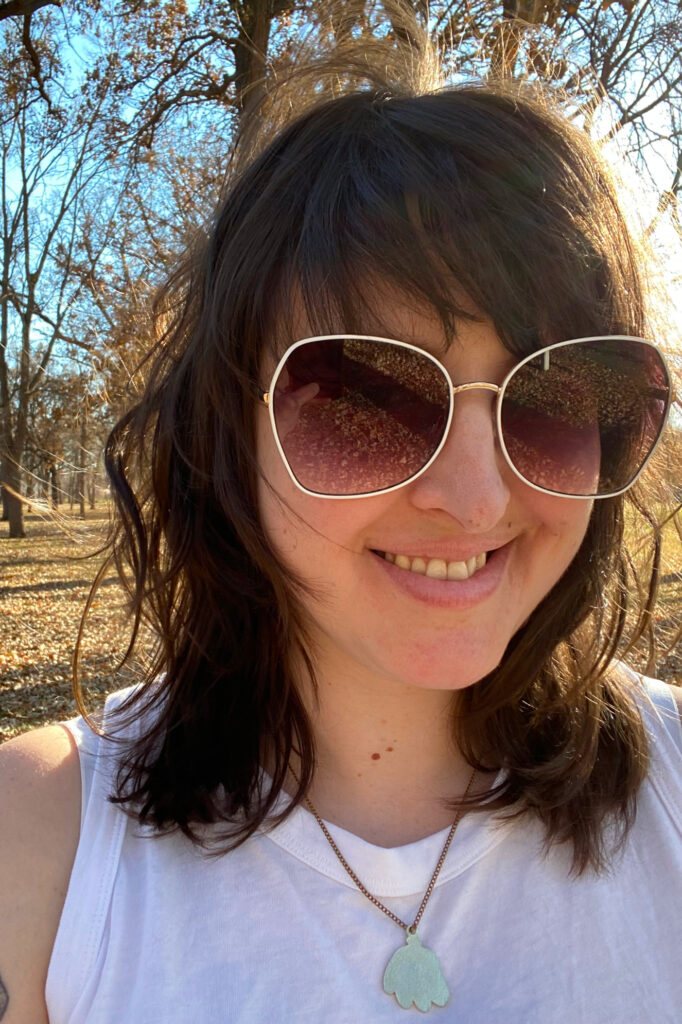 Ellis Burnheart is a Disabled Artist and Musician living in Minneapolis, Minnesota. Originally from Georgia, she moved to Providence, Rhode Island to attend Rhode Island School of Design, completing their Foundation Program with honors in 2004. She then moved to Portland, Oregon, where she completed her Bachelor of Fine Arts with a focus in Painting in 2009 at Pacific Northwest College of Art.
Ellis is a multi-disciplinary artist currently creating comics, illustrations, paintings, and fiber art. Needlefelting is her latest passion, with which she creates dioramas, dolls and pet portraits. Ellis draws inspiration from the creepy cute aesthetic of Gurokawa as well as artists like Dame Darcy and Mab Graves.
Musically, Ellis has a 10 year history of involvement at Rock'n'Roll Camp for Girls as a youth mentor and guitar instructor. Her punk band Rotties released their third studio album "End of You" in 2019. She released a collaborative album with Sam Henry titled "Last Chance Sessions" in 2022. Currently she is working on her first solo album in her home studio.
Exhibitions
July 2022 Two-Person Exhibition, Ghosts of the Forest, Java River, Montevideo MN (with Malena Handeen)
Oct 2017 Kaibyo! Ghost Cats, Champagne Room Gallery, Portland, OR (curated by Pressure Point Creative)
Jun 2017 Art by Tarts, PCC Cascade Student Union, Portland, OR (curated by STROLL)
Feb 2017 Solo Exhibition, Collected Works, Beulahland, Portland, OR
Jan 2017 Solo Exhibition, Scary Monsters and Super Creeps, Tiny's Coffee NE, Portland, OR
Jun 2015 $pread the Love, Pivot, Portland, OR (curated by STROLL)
Sep 2011 Solo Exhibition, Collected Works, Cup and Saucer, Portland, OR
Nov 2010 Feminist: Perspectives and Performances, East End, Portland, OR (curated by Nadia Buyse)
Aug 2010 Solo Exhibition,Worn, Gallery 114, Portland, OR
May 2010 20th Anniversary Show, Gallery 114, Portland, OR
Feb 2010 New Member Show, Gallery 114, Portland, OR
Jun 2009 Solo Exhibition, I Can Sell My Body If I Wanna, Pacific Northwest College of Art, Portland, OR (Senior Thesis)
Mar 2009 The Dark Carnival, Vino Vixens, Portland, OR (curated by Carolina Medina-Dupaix)
Nov 2006 Feminist Voices, In Other Words Bookstore, Portland, OR
Oct 2006 Two-Person Exhibition, New Works, PNCA BFA Gallery, Portland, OR (with Gina Siciliano)
Publications
2023 Cripple Castle, self published zine
2023 Working It: Sex Workers on the Work of Sex, PM Press, ISBN 9781629639918
2017 30 Days of Cats, Blurb Books, ISBN 1389761746, 9781389761744
Education
2008 Pacific Northwest College of Art, BFA in Painting
2004 Rhode Island School of Design, Foundation Program
2003 University of Georgia, the Lamar Dodd School of Art
Honors and Awards
2018 June/Nov, Artist Residencies, Sou'Wester Lodge, Long Beach, WA
2017 Riso Club Member, Risograph Basics Workshop, Outlet PDX
2010 Gallery 114 Member, Artists' Collective
2009 PNCA Print Portfolio Exchange, Juried Portfolio
2006 William Jamison Memorial Scholarship, PNCA competitive merit award
2006 Carey Life Drawing Award, Finalist; Voorhies Drawing Award, Double Finalist
2005 Carey Life Drawing Award, Finalist
2004 Dean's List; Rhode Island School of Design
Press & Appearances
Podcast Appearance, "BSG #79: Caleb de Suerte / Our Share of Night", Book Squad Goals, April 18, 2023
Podcast Appearance, "Othersode #74: If I Can't Have Two Men, I Can Have Cher / Interview with the Vampire", Book Squad Goals, Dec 12, 2022
Podcast Appearance, "BSG #68: Who is Raven?", Book Squad Goals, June 13, 2022
Christians, Cynthia, "Artists reception held for Burnheart art opening", Montevideo American News, July 14, 2022
Christians, Cynthia, "Ellis Burnheart is being joined by fellow artist Malena Handeen in joint art exhibit", Montevideo American News, July 1, 2022